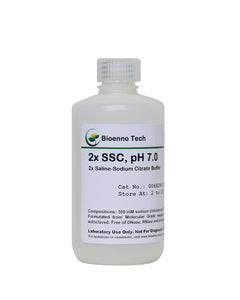 2× Saline-Sodium Citrate Buffer (pH 7.0)
Laboratory Use Only, Store at 2 – 25 ºC
Product Package:
2× SSC (pH 7.0): 250 ml per unit (Catalog No.: 006829-250); Price: $59.00/each
(Distributor and quantity discounts available, please send an email to
contact@bioenno.com

 

to order.
For common questions and answers, please check our

 

FAQ.)
General Information:
Grade: Molecular Biology
Contents: Sodium chloride and sodium citrate in distilled water
Not hazardous product
Product Description:
Saline-Sodium Citrate (SSC) buffer (pH 7.0) is most commonly used in nucleic acid hybridization, blot transfer, and nucleic acid preparation at concentrations from 0.1× to 20×, depending on the application. Bioenno's SSC buffer is specifically developed for in situ hybridization on brain sections, Northern and Southern transfer protocols, as well as nucleic acid preparations, in which the buffer is used to help control the stringency of hybridization in these steps.
The 2× SSC (pH 7.0) containing 0.3 M sodium chloride and 0.03 M sodium citrate. All molecular biology grade compounds are dissolved in DEPC (diethyl pyrocarbonate)-treated distilled water, and the SSC buffer is autoclaved. Dilute the stock solutions to required concentration with DEPC-treated distilled water, or equivalent just before use.
Product Features:  
Compositions: 2× SSC containing 0.3 M sodium chloride and 0.03 M sodium citrate
Formulated from Molecular Grade reagents; DEPC treated and autoclaved
Buffer solution are free of DNase, RNase, and protease activity
Optimized for

 

in situ

 

hybridization (ISH) and molecular biology
HDPE bottle (temperature -100°C to 120°C)
For Research Use Only
Shipping, Storage, Safety, and Handling Precautions:
Shipped at room temperature. Store the buffer solution at 2 to 25°C and avoid strong direct light. Bioenno's ready-to-use solution in bottle is stable for one year at 4°C.
The solution is designed for

 

in vitro

 

research use only and not for drug, diagnostic or other uses.
The solution contains reagents that may be harmful in contact with skin, by inhalation or ingestion. Do not pipette by mouth. Use ordinary precautions to avoid inhalation and contact with skin and eyes. In case of contact, wash immediately with generous amounts of water and seek medical advice. If swallowed, wash out mouth with water and immediately call a physician.
Perform experiment under a chemical hood. Wear suitable protective clothing, gloves and eye/face protection. Wash hands thoroughly after performing the experiment.
Material safety data sheet (MSDS) is available upon request.
Warranty: 12 months from the date of purchase.
Return Policy: Bioenno Tech's return policy for this product is 90 days from the date of purchase.
Free Technical Support: Email your questions to contact@bioenno.com
brain tissue, dendrite, dendritic spine, GFP, gfp, golgi cox, golgi impregnation, golgi stain, golgi's method, impregnation, rapid golgi, spine, staining, super golgi, supergolgi, synapse

Back to the top